WorkLife Law uses interdisciplinary research to equip policy makers and advocates with the information and tools they need to ensure pregnant and breastfeeding employees keep earning a paycheck while protecting their health. For consultations on policy, please e-mail us at policy@worklifelaw.org.
Breastfeeding workers need break time and a private, clean space near their work area where they can express breast milk. However, over 9 million women of childbearing age are not covered by the only nationwide law specifically for breastfeeding workers, the Break Time for Nursing Mothers law. As states work to fill in the gaps left by these and other laws, we're here to help.
Read the first comprehensive report on breastfeeding discrimination, including state-level data and policy solutions:
Even when the law provides a right to break time and private space for expressing breast milk, taking breaks may result in reduced wages—making it unaffordable for many low- and middle-income workers.  This resource outlines concrete policy solutions that would ensure no parent is forced to choose between their paycheck and continuing to provide breast milk for their child.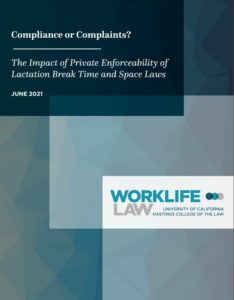 WorkLife Law resources conducted an in-depth review of lawsuits filed against employers in the four jurisdictions that have privately
enforceable break time and space laws to examine the likelihood that employers will be sued. Our data show that allowing employees to enforce lactation break time and space laws in court does not lead to a meaningful increase in litigation.
What is the current law?
Visit our interactive map to learn about existing protections in each state and nationwide:
Don't miss out on what's next:
Sign-up to learn about future policy resources!
For questions about these materials or suggestions for our forthcoming policy resource center, you can reach us at: policy@worklifelaw.org.