Most women can continue working throughout their pregnancies, but many require adjustments to how or when their job is performed to be able to continue working safely. One-quarter million women are denied their work accommodation requests each year, threatening the health of those women and their pregnancies. You can play an important role in ensuring your patient receives the accommodation she needs.
The American College of Obstetricians and Gynecologists (ACOG) recommends that healthcare providers write appropriate work accommodation notes that allow patients to continue working safely during pregnancy. (Committee Opinion 733). Healthcare providers typically are not trained on how to do so effectively, and despite good intentions, may write notes that inadvertently cause their patients to be sent out on leave, lose their health insurance, or even lose their jobs.
See Jackson, R. et al., "My Obstetrician Got Me Fired: How Work Notes Can Harm Pregnant Patients and What To Do about It,"  Obstetrics and Gynecology, vol. 126, issue 2, p. 250-254.
ACOG's Committee Opinion 733 recommends the resources on this site, which were developed by a team of doctors and lawyers, to help you write work notes that increase the likelihood that your patients will receive the pregnancy accommodations they need to continue working and earning an income.
Please select the state where your patient works (not necessarily the same state where you practice) to access the note-writing tools available for that state:
Check out our comprehensive guide on workplace accommodations you can recommend for pregnancy, childbirth, and related medical conditions, including lactation, fertility treatment, abortion, miscarriage, stillbirth, and menstruation.
To ask questions or invite an expert to present on pregnancy accommodation work notes at your healthcare institution, contact us at (415) 565-4640.
You may refer your patients to the Center for WorkLife Law's free legal hotline: [email protected] or (415) 703-8276.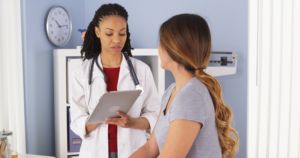 Please Don't Fire My Patient: How to Support Your Pregnant Patients' Ability to Earn an Income and Stay Healthy on the Job
This webinar trains prenatal care providers – doctors, midwives, nurses, and staff – on how to best support their pregnant patients at work.  Viewers will learn about the laws that protect pregnant employees, best practices for providing guidance to pregnant patients facing workplace challenges, and specific guidelines for writing effective work notes that will increase the likelihood pregnant patients will receive work accommodations they need to maintain a healthy pregnancy.  This online presentation is a reproduction of a grand rounds lecture delivered in fall 2016 at a dozen medical schools nationwide, including the University of California, Harvard, Stanford, Baylor, the University of Pennsylvania, the University of Pittsburgh, the University of Chicago, and others.